Tamar Freudmann was born and raised in Germany, lived in France for three years, and in Israel for twenty-five years. With European influences, her love for design from a young age, and academic studies in both economics and management coupled with interior design studies at the renowned Berzin Shoham Studio in Tel Aviv, Tamar is adept at seeing the whole picture, planning, and executing the design process of building and renovating private and public spaces.

With an emphasis on elegant interiors that are fit to the spaces they occupy, and function for those who live or work in them, to each project Tamar brings a unique perspective and an individual approach.

Tamar's known for her high level of quality and service and her ability to create warm, comfortable and beautiful homes that reflect their owner's unique personality and style. In commercial projects she delivers timely, functional and aesthetic spaces.
"Jerusalem Post"
Industrial Chic
​
The overall look is what we like to call "industrial chic", says Tamar Freudman who created this contemporary and original look for the owners of an appartment.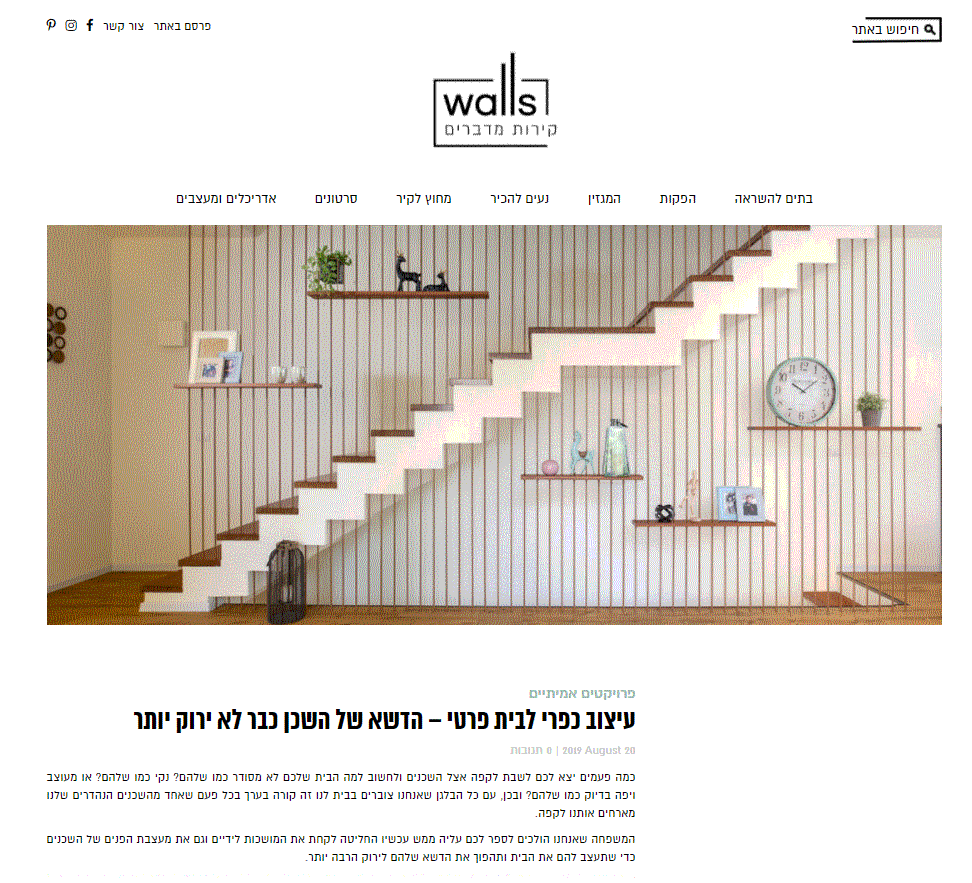 "walls" online magazine
Rustic Family Home
Make your own garden greener, that's what this family thought and underwent a renovation in their own home after living through their neighbour's renovation.
"Walla Home and Design"
online magazine
European modern
​
Discover what this client found under his tiles in the basement when planning to renovate their guest bathroom.
"Working with Tamar was a pleasure in all ways. She has a sharp and creative eye, backed by lots of experience. She always struck a great balance between listening to our (sometimes divergent) tastes and expressing her own opinions. She quickly generated several attractive and practical designs for our bathroom project. She collaborated well and effectively with the workmen during the renovation. She was always prompt, patient and reasonable. Moreover, Tamar is a wonderful person who always kept our interests at heart; she will do the same for you. Highly recommended!"
Josh and Lorre Goldberg, Ra'anana
"Tamar was the interior designer for our new kitchen & several other "shiputzim" over the last few years. I would highly recommend her. She is reliable, has creative ideas, & is highly attentive to detail - it was a pleasure working with her."
Michelle Friedman, Ra'anana
"Working with Tamar was a pleasure from beginning to end. She made it a priority to understand our lifestyle so that the design options she presented were not only a reflection of our brief but also embraced the way we live our life. She project managed, was mindful of the boundaries of budget and was, perhaps most importantly, a delight to work with, communicative, efficient and professional throughout."
Melissa Nahshon, Ra'anana
It's time to bring comfort, beauty and function into your world, contact me today.
Tamar Freudmann Interior Design
+972-54-7671568 tamar@itzuvpnim.com
Ra'anana, Israel